BABIES
Britney's Dad Remains in Charge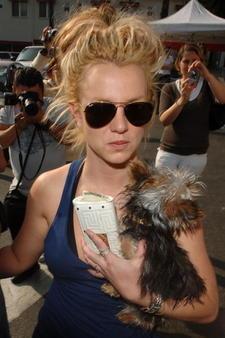 Round Two of Britney Spears' big day in court, in which her lawyers attempted to have her father removed as conservator over her financial and medical decisions, ended with the court maintaining the status quo and Jamie Spears remaining in control of her daughter's matters.
As the proceedings began, an investigator for the court announced that Britney's assets total more than $40 million. The investigator also said that he met with Brit yesterday at 5:10 p.m. for 15 minutes and that, while she spoke willingly, he believes that "she does not understand these proceedings, does not understand the impact of these proceedings on her rights," and that she "lacks the capacity to retain information."
Article continues below advertisement
The judge then asked if Sam Lutfi had been served with the documents for the restraining order that was issued Friday. The investigator said that Lutfi had been located but the process server was unable to serve the documents because Sam refused to answer the door.
Lawyers for Mr. Spears claimed in open court that they believe Britney and Sam have remained in communication with each other through the weekend, in spite of the restraining order.
As for allegations that Britney's father is after her cash, his legal team said, "Mr. Spears is under great stress and in no way does he want her money. He wants to look after her assets and keep them intact until she's healthy enough to make her own decisions." According to his lawyer, Jamie has also asked for the assistance of his co-conservator while Britney remains hospitalized.
Lawyer Adam Streisand then announced himself to the court, saying he was asked by Britney to represent her in this matter. "She clearly has a very strong desire to not have her father be the conservator," Streisand told the judge. "This is causing great stress, suffering and estrangement." Mr. Streisand then suggested the court replace Jamie as conservator with the firm of Northern Trust.
Article continues below advertisement
However, the judge determined that, as Mr. Streisand was hired without the knowledge of the conservators, he is not technically Britney's attorney.
Around 3:20 p.m. PT, it was announced that the conservatorship would be continued through the remaining period of Britney's hospitalization. Additionally, the court strengthened the restraining order against Sam Lutfi, saying Brit is to have no communication whatsoever with her friend.
A court-appointed attorney has been given the task of further determining Britney's current mental state. That person's findings will be discussed at a hearing scheduled for Feb. 13.
Earlier this morning, all the key players were there this morning for a scheduled hearing in the ongoing custody battle between Britney and ex-husband Kevin Federline — everyone except Brit. So with the mother of Sean Preston, 2, and 1-year-old Jayden James, now in the hospital for at least two weeks, the court decided this morning to postpone her request for supervised "therapeutic" visitations until Feb. 19.