BABIES
Brit's Bodyguard: Witness or Disgruntled Employee?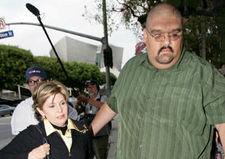 As she marched out of the courthouse, Laura Wasser told OK! that celebrity lawyer 's secret witness — Brit's former, terminated bodyguard , 28, was a "disgruntled employee" who was "not a credible witness."
Wasser added: "Britney's fine. She's staying home with the boys right now."
Allred appeared outside the courthouse moments later with Barretto and his wife, Isabelle, at his side. "Today, we came to court with a key and secret witness in the / custody battle," Allred said. "Our client Tony Barretto was employed as a bodyguard for Ms. Spears from the time that she came out of rehab until May 17, 2007.
Article continues below advertisement
"During that time he was in her home on a full-time basis. He drove Ms. Spears to various appointments and observed her behavior inside of her home, outside of her home and around her children.
"During that time he became very concerned about the children and their safety.
"Though he was reluctant to come forward and become embroiled in her custody dispute, he decided to do so because of his concern about the safety and well-being of the children. He is a father of young children himself."
Barretto's wife, Isabelle, was by his side during the press conference. "She's here to support her husband," Allred said.
"We appeared with our client this morning, who was prepared to testify and be cross-examined under oath on his declaration, which was filed with the court and received as evidence in this case.
"We are shocked that Ms. Spears' attorneys chose not to cross-examine our client as to the substance of his declaration.
Article continues below advertisement
"Our client was prepared to testify on issues of nudity by Ms. Spears, drug use and safety issues involving the children post-rehab.
"Since neither the court nor Mr. Spears' attorneys chose to examine our client from the witness stand regarding the particulars of his highly explosive and relevant declaration, it stands unrefuted and unchallenged.
"We would hope that the court will make interim orders that would protect the children.
"We have spoken to county counsel for Child Protective Services about our client's concerns for the children and have discussed the next step that we will take, though we are not in position to reveal that as this time."