BABIES
Brit's Boys Pay a Visit!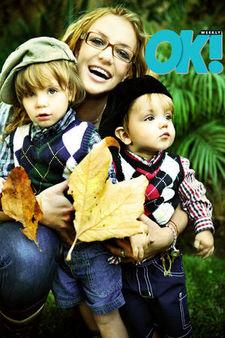 Less than 24 hours after it was discovered that a deal had been hammered out between the lawyers in the Britney Spears vs. Kevin Federline custody case that would allow the pop star supervised visits with her children, the little Federline lads came to pay mom a visit at her L.A. home.
Around 9 a.m. PT on Saturday, a Dodge truck carrying Sean Preston, 2, and 1-year-old Jayden James entered Britney's gated community, The Summit.
Article continues below advertisement
By noon, the boys were on their way back home to K-Fed. "They definitely had smiles on their faces after the visit," one witness tells OK!.
Also inside the house during the visit were Brit's father, Jamie Spears, a psychologist, one of Kevin's bodyguard, the court-ordered monitor, and a lawyer. According to a source, the pop singer was not allowed to leave the common area of the house, where Jamie and the others could supervise, without the children.
This was the first time the boys have seen their mother since the Jan. 3 standoff with authorities that landed Britney in the hospital for several nights. Until this visit, she had only been allowed to speak with her children during short phone conversations.