BABIES
Brit's Conservators Head Back to Court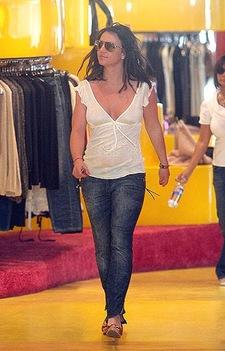 Valentine's Day is probably not the most pressing thing on Jamie Spears' and his ex-wife Lynne Spears' minds this year. On Thursday, instead of entertaining Cupid, Jamie and his team of lawyers will be headed back to court to decide whether 26-year-old Britney Spears is able to resume some degree of power over herself.
Also likely to be present is Andrew Wallet — co-conservator, with Jamie, of Britney's estate, and Sam Ingham, a court-appointed attorney responsible for overseeing them both. Whether Britney herself will show remains to be seen. Given her track record with court appearances, the probability of her being on-hand seems unlikely.
Article continues below advertisement
Sources tell OK! that her presence at court tomorrow will depend on just how badly she wants some of her rights restored. As of now, Britney cannot drive her car, talk on her cell phone or see anyone she wants. She also cannot, without permission from the conservators, spend her own money, hire or fire lawyers, or leave California.
"Basically, she's grounded," a court insider tells OK!. "And dad's got the keys to the car and the batteries to the remote control. Britney's not digging it much. This is a girl who's been calling the shots, and firing anyone she doesn't agree with since the time she could drive."
The court insider continues, saying, "Going back in time, with a 10 p.m. curfew, and the adolescent position where she has to get permission from her parents so her boyfriend can come over for dinner, is not how she normally rolls, to say the least."
As for Britney's other case — her ongoing custody battle with ex-hubby Kevin Federline, the pop princess is still only allowed to talk to her sons over the phone. The question of whether her visitation rights with Sean and Jayden will be expanded won't be discussed until Feb. 19 — which, by the way, is the date her divorce lawyers, Trope & Trope will ask officially to be relieved as her counsel.