BABIES
Brittany Murphy Wants to Be a Mom Soon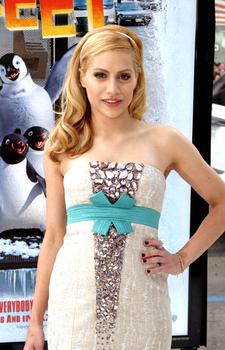 You would think that since she's been married for almost two years, owning a cute puppy would point to one thing on Brittany Murphy's to-do list: babies! But the actress, 31, insists her Maltese, Clara, has no bearing on her desire to become a mom.
"I never needed a puppy to inspire me to thoughts of having children," jokes the actress, who stars in a new Lifetime movie, Tribute, on April 11, and will then be seen in Sin City 2. Brittany, who married screenwriter Simon Monjack in May 2007, spoke to OK!.
Article continues below advertisement
OK!: Tell us about your dog.
I adopted the most precious little puppy in the whole wide world and that has been a real life-changer. She's a humongous personality in a tiny package. She's more of a family member than a pet.
OK!: What do you enjoy most about being married?
Getting up every morning and going to sleep every night next to my soulmate.
OK!: How did you meet?
We met when I was 17 years old. We checked in with each other throughout the years and remained friends. The easiest decision I ever had in my life was getting married.
OK!: What's the most romantic thing Simon has done for you?
He's flown around the world to make sure we spend every single night together.
OK!: Do you want kids?
I hope to have a few. I've always loved kids and babies and always wanted to be a mom.
OK!: When?
Hopefully soon.
OK!: What was your latest fashion splurge?
Yesterday, I got Clara some summer dresses from an incredible store called .O.G. They had a sale, which was fortunate — my husband says I spend more money on Clara than on myself!
Article continues below advertisement
OK!: What drew you to Tribute?
It's a thriller, a mystery and very romantic. I think there's a lot to be learned from my character, Cilla. She's a woman who's lost, but comes into her own.
OK!: What was it like working with Jason Lewis on the movie?
Fantastic! He's a doll. He loves music and brought it to the set, which is always a pleasure. He had a little speaker that was the size of about four dice put together, and it was attached to his iPhone. He had all his music ready and wasn't afraid to play it and entertain the crew. He was a delight to work with and very professional.
OK!: What's your favorite way to de-stress?
Baths and hugs. Spending time with loved ones because, for me, the outside world is the only place that contains any stressors.
OK!: You worked on Girl, Interrupted with Angelina Jolie. What do you think of her family?
I love Angie very much and I think she and Brad and the babies are the most beautiful family.
Have a news tip or great photo you want to tell us about? Shoot us an e-mail: tips@okmagazine.com