BABIES
Carnie Wilson: I'm Pregnant!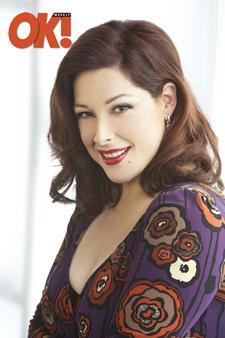 Carnie Wilson – who lost nearly 50 pounds this year with OK! exclusively following her struggle to get slim and healthy – is now announcing her happy baby news. The singer and her musician husband, Rob Bonfiglio, are pregnant with their second child.
CLICK HERE for a gallery of Carnie's weight loss journey!
"My due date is June," Carnie, 40, proudly tells OK!. "We're thrilled." Here, the star reveals how she'll stick to her diet and exercise routine while pregnant.
Article continues below advertisement
How did you find out you were expecting?
I was making dinner, and I took a home-pregnancy test. There was a second line, and I jumped and said, "Oh, my god, I'm pregnant!" Lola my 3-year-old daughter and I started screaming and jumping for joy. She was so excited!
How did you tell your husband?
I couldn't get a hold of Rob because he was playing a jazz gig. I taped the pregnancy test to the front door and drew a picture of little stick figures of Daddy, Mommy, Lola and then a little tiny one. I jumped out of bed at midnight and went into the kitchen and I see him holding the stick. He took me in his arms and goes, "Here we go again, honey." He was happy.
What are your hopes for the pregnancy?
I can't stop thinking about twins! My sister had twins; my grandmother was a twin and my grandmother's aunt had twins. I had my first ultrasound and we only saw one sac, but it's not confirmed that it's not two because one could be hiding in back of the other.... We'll see!
How will your condition affect your workouts?
I'm still doing my inner-core strength training. I'm going to increase my walking — instead of three days a week, I'm going to go for five.
Article continues below advertisement
Did you expect to get pregnant so quickly after losing the weight?
I did, actually. We had sex before, during and after ovulation. I was really keeping track of it, and it worked. Also, my body is so healthy now. I think we might have conceived to "She's Leaving Home" by The Beatles!You've said you're hoping for a boy.
Any idea on names yet?
We saw our first ultrasound yesterday. Lola pointed to the screen and was laughing, "That's my brother Jake!" She wants to name the baby Jake, but Rob said no. In an Italian family, it's traditional for the son to be named after the father, at least the first-born male.
What does motherhood mean to you?
The most joy you ever can feel is the love for your child. Children teach you so much. Motherhood is challenging, but it's so fun.
For more on Carnie's diet plan and details on her pregnancy, pick up the new issue of OK!, on stands everywhere Thursday!