BABIES
Charlie & Brooke Have "Favorites"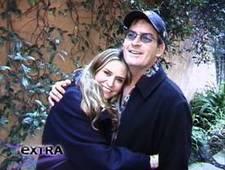 In their first interview together since baby boy twins Bob and Max were born, Charlie Sheen and wife Brooke Mueller joke that they're already picking between their sons!
"We have favorites already," Brooke quips during the interview with Extra.
"No, no. The kids will see this interview one day. And never forgive us," Charlie adds.
"But they're fake favorites. They're not real favorites," Brooke concedes.
Article continues below advertisement
"And that'll change from day to day," finishes Charlie.
Each parent has a different favorite, with Charlie going for Bob, who has his given name, Carlos, as his middle name.
Brooke's fave?
"Max is my favorite. Max is sweet and quiet," she reveals. "And Bob is kind of loud and cries a lot like his father."
"We're thrilled. Everyone's doing great," says Charlie. "Bob's great. Max is great. Mom is great obviously, look at her."
Charlie continues, "I also want to say to all my fans. Thank you for the outpouring of love and support and well wishes. We really appreciate it. It's an exciting time for us. Be careful what you wish for. Here we are...."
Brooke adds, "With twins."
OK!'S EXCLUSIVE CHARLIE SHEEN WEDDING PICS:
<a href="http://www.okmagazine.com/pixandvids/gallery/12730/1" target="_blank"><img src="https://d-images.okmagazine.com/img/photos/large/24043.gif" width="74" height="100"/></a> <a href="http://www.okmagazine.com/pixandvids/gallery/12730/2" target="_blank"><img src="https://d-images.okmagazine.com/img/photos/large/24042.gif" width="74" height="100"/></a><a href="http://www.okmagazine.com/pixandvids/gallery/12730/3" target="_blank"><img src="https://d-images.okmagazine.com/img/photos/large/24041.gif" width="74" height="100"/></a> <a href="http://www.okmagazine.com/pixandvids/gallery/12730/4" target="_blank"><img src="https://d-images.okmagazine.com/img/photos/large/24040.gif" width="74" height="100"/></a>
Article continues below advertisement
<a href="http://www.okmagazine.com/pixandvids/gallery/12730/5" target="_blank"><img src="https://d-images.okmagazine.com/img/photos/large/24039.gif" width="74" height="100"/></a> <a href="http://www.okmagazine.com/pixandvids/gallery/12730/6" target="_blank"><img src="https://d-images.okmagazine.com/img/photos/large/24038.gif" width="74" height="100"/></a><a href="http://www.okmagazine.com/pixandvids/gallery/12730/7" target="_blank"><img src="https://d-images.okmagazine.com/img/photos/large/24037.gif" width="74" height="100"/></a> <a href="http://www.okmagazine.com/pixandvids/gallery/12730/8" target="_blank"><img src="https://d-images.okmagazine.com/img/photos/large/24036.gif" width="74" height="100"/></a>
<a href="http://www.okmagazine.com/pixandvids/gallery/12730/9" target="_blank"><img src="https://d-images.okmagazine.com/img/photos/large/24035.gif" width="74" height="100"/></a> <a href="http://www.okmagazine.com/pixandvids/gallery/12730/10" target="_blank"><img src="https://d-images.okmagazine.com/img/photos/large/24034.gif" width="74" height="100"/></a><a href="http://www.okmagazine.com/pixandvids/gallery/12730/11" target="_blank"><img src="https://d-images.okmagazine.com/img/photos/large/24033.gif" width="74" height="100"/></a> <a href="http://www.okmagazine.com/pixandvids/gallery/12730/12" target="_blank"><img src="https://d-images.okmagazine.com/img/photos/large/24032.gif" width="74" height="100"/></a>