BABIES
Charlie & Brooke's Son Remains in Hospital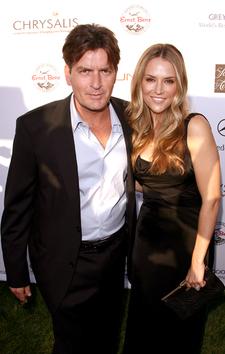 UPDATE 2:19pm Contrary to earlier reports, Charlie Sheen and Brooke Mueller-Sheen's newborn son Max does not have a heart condition, but is still hospitalized, rep Stan Rosenfield tells OK!.
"Charlie and Brooke's infant son Max remains in the hospital, not because of a heart condition as reported, but because he has not gained the weight necessary to leave hospital. Max is expected to reach the weight requirement shortly and will join his brother at home.
Article continues below advertisement
"The weight issue is very common among infants who were born before reaching full term," says Charlie. "I know a lot of people are not fond of hospital food; I just didn't realize that they started so young.'
The Sheens appreciate the outpouring of concern but have assured everyone that both Bob and Max are fine."
---------------
New parents Charlie Sheen and Brooke Mueller-Sheen are sure to be worried about their baby son Max right now, as a source tells Entertainment Tonight that the newborn is still in the hospital with a heart condition.
Max and his brother Bob were born on March 14 to their happy parents. Even before they arrived, Charlie was ecstatic over the idea of becoming a parent again (he's father to three girls already).
"I'm truly blessed," Charlie told OK! in August. "I'm already the proud father of three beautiful daughters, and I'm delighted that they'll now have two little brothers... Life doesn't get any better than this."
The boys are the first kids for Charlie and Brooke, who were married on May 30, 2008, in a wedding featured exclusively in the pages of OK!.
OK!'S EXCLUSIVE CHARLIE SHEEN WEDDING PICS: