BABIES
Charlie & Brooke's Twins "Doing Great"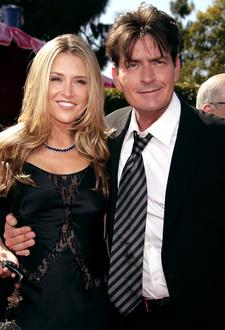 After a bit of a scare when twins Bob and Max were born prematurely, Charlie Sheen and wife Brooke Mueller-Sheen say the boys are now "doing great." But like any caring mom, Brooke admits she was nervous about the boys' health right after the birth.
"It was scary," Brooke tells Entertainment Tonight in an interview airing Thursday. "I went to the NICU to see them and words can't express how amazing and shocking to see two human beings that came out of me. But I was scared. Our babies had so many tubes on them, it was frightening. I didn't have the easiest pregnancy. I had preeclampsia, gestational diabetes and cholestasis."
Article continues below advertisement
Charlie adds, "She would have been in serious jeopardy had they stayed in longer."
Despite rumors that Max has a heart problem, Charlie reiterates that it was a weight issue that kept him in the hospital longer than Bob, and explains where that rumor started.
"They were seven weeks early so things were still developing. Max has something called ejection fracture. It's the volume at which the heart pumps and how much blood the heart can pump," he explains. "There wasn't anything that any other premature child, especially a twin, doesn't normally go through. Things are gradually going toward normal."
As things stabilize at home, the proud parents are seeing their boys' personalities and looks develop.
"They are completely Sheens," Brooke jokes. "They don't have any Mueller genes. I'm like, 'Can I at least have an ear?!' Bob looks identical to Charlie. Everybody at the NICU called him Charlie. And Max looks like (Charlie's dad) Martin."
Charlie reveals that his two girls with Denise Richards, Sam and Lola, are having fun being big sisters and holding the boys.
"I think they think they might be dolls," Brooke adds.
Charlie's oldest daughter, Cassandra, 24, better not get too maternal feeling after a visit, however, as he jokes, "With her it's more like, 'Don't get any ideas!' At 43, I'm not ready for that label (of Grandpa)."