BABIES
Charlie Sheen Responds to Denise Richards Over Nanny Issue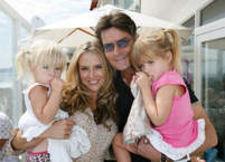 A court-ordered observer "sullied" 's family weekend with his daughters, Sam, 3, and Lola, 2, and fiancée, Brooke Mueller, when ex-wife sent her assistant instead of a nanny to supervise the day. A court order stipulates a nanny must be present during Charlie's time with their girls. Charlie, who has likened the assistant to a "spy," has released a new statement on the matter.
Article continues below advertisement
"Until I'm granted the ability to hire my own nanny, she is required to provide one and I was terribly insulted that she felt her 'assistant' was a suitable replacement. If it's unfortunate that I'm speaking, it's 'unfortunate' that an incredibly loving and responsible father and his terrifically capable fiancée are being subjected to these transparent and unnecessary sanctions, that have nothing to do with responsible co-parenting and everything to do with punishment and control. As long as I am forced to live under these conditions with my children, people are going to hear about it."
On Monday, disappointed in her ex's decision to reveal the matter to the press, Denise defended herself, saying she was and will "continue to act in the best interests of her children and to take all reasonable steps to protect them."
The Emmy nominee is currently locked in a heated custody battle with Denise over visitation rights.
By Joyce Eng