BABIES
Charlie Wants 'No Ties' at His Wedding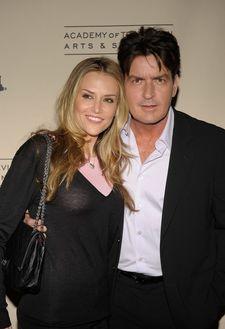 Two and a Half Men star, Charlie Sheen, is getting candid about his upcoming wedding to fiance, Brooke Mueller. The actor caught up with Extra recently on the set of his show to talk about his nuptial plans, which do not include, among other things, ties.
"No ties at my wedding," Sheen told Extra of his plans to have a casual wedding ceremony. "It's going to be hot. I want people to be comfortable."
Article continues below advertisement
Sheen,43, says he can't wait to marry Mueller (who is a special correspondent for Extra) and says he'd like to have more children in the near future. But the actor, who has three daughters, says he's not sure he could handle a boy.
"I wouldn't know what to do with a boy at this point," Sheen says, adding, "We're set on a name, so if it's a girl she's going through life with 'Bob'."