BABIES
Christina "Excited" About Rock the Vote PSA with Son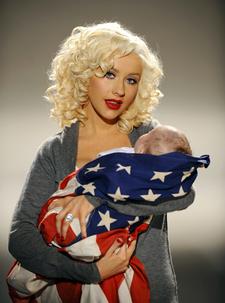 Knowing full well her 5-month-old son Max will be subjected to an exorbitant amount of press through his life, Christina Aguilera decided to take matters into her own hands and expose him on her own terms -- in a Rock the Vote PSA.
The Grammy-winning songstress recently filmed a PSA with her little guy in an effort to encourage the youth of America to vote in the upcoming presidential election.
"Being that I am someone that is in the limelight, I just figured he is going to be, time and time again, probably, subjected to, you know, the press, in one shape or another and in a way, where I'm really not going to have much control over," Christina said on Larry King Live Wednesday night.
Article continues below advertisement
"And so what a great way to sort of subject him in such a positive way and in such a great time in history to do something as positive as getting people to vote and getting people to care about their country and get excited about this change."
"Extra excited" about involving her family in this historic presidential campaign, Christina, who's married to music executive Jordan Bratman, hardly hesitated to say "yes" when Rock the Vote approached her with the idea.
"In particular, for me, being a new mother, you know, it was really important for me to get involved and get excited about this election in particular, being such one of change and new development for our country and for the future of my son," the 27-year-old said.
The ad, which will air this summer, features Christina cradling an American flag-swaddled Max while cooing a lullaby version of "America the Beautiful" to him. Toning down her normal vocal acrobatics was, of course, necessary.
"Since I'm holding my son, I'm not going to, you know, belt in his face or anything like that," she said. "But it was really, really nice to bring it down to a really intimate moment between me and my son and kind of symbolizing what this song means in the sense that it's passing it on to the next generation. It's trying to contribute in a way to make the future better for my son."