BABIES
Constance Zimmer is a Fresh Mommy!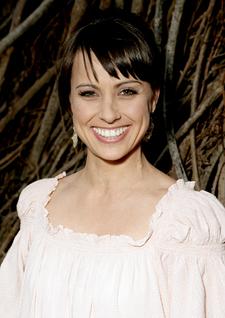 As other hot Hollywood mamas can attest to, being a mother can be a joy – and a pain, when it comes to shedding those extra pounds gained. But Entourage's Constance Zimmer shared a few tips with OK! that she's learned since giving birth to her daughter Colette Zoe last January.
"I did a food program that's called Fresh Mommy, which is all delivered organic food that's really good for you," she told OK! Thursday night at an event celebrating Tommy Hilfiger's Ironic Iconic America special on Bravo in Beverly Hills. "You need to eat so much food after you have a baby to breastfeed, so it's all about portion control."
Article continues below advertisement
Exercise also played an important part in her journey back to her fit bod, she reveals.
"I walked a lot. I wore a weight vest when I walked, so it was an added four pounds of weight every time I walked," she says. "It's been eight months. This industry doesn't give you any time to take off the baby weight. It kind of has to happen right away."
Despite having to work hard to regain her pre-baby body, Constance says being a new mother was a big change.
"She's pretty fantastic so I feel really lucky that she's such a good baby," she gushes. "It just changes your whole perspective on the world. We all need that. It makes you think about things like the fact that, 'oh I need to make sure I have all of my immunities and booster shots.' Now you are responsible for somebody else and I need to be here on this Earth for as long as I possibly can to help her."
Her new role as a mother has also changed her view on fashion, as she admits, "It's like, I'm a mom. I'm not really going to be seen in a half-shirt anymore."