BABIES
Cover Story: Angelina's Joy Is Jen's Pain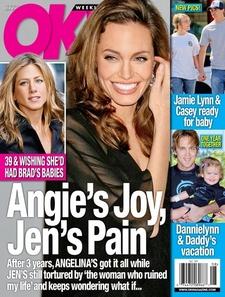 "It's been three years since they split," one pal of Jen Aniston reveals to OK! about the actress' divorce from Brad Pitt. "But she's still so far from getting over him, it's tragic."
And on Feb. 23, when Jen, Brad and the woman he left her for, Angelina Jolie, will all take part in hosting a charity event at the Beverly Hills Hotel, the tension in the room will most certainly be palpable.
Sources tell OK! the former Friends star is now gearing up for the moment she'll have to say hello to Angelina or, as she chooses to put it, "that person who ruined my life."
Article continues below advertisement
Making the matter more stressful for Jen, who turned 39 on Feb. 11, is that she's being constantly bombarded with images of a glowing, pregnant Angelina. "Jen is desperate for kids," says a source. "She can feel her biological clock ticking and must be scared that she's left it too late. She keeps saying that she wishes she had kids with Brad and that, if she had, maybe things would be different."
For the full story on Jen, Angelina and Brad, pick up the new OK! — on stands everywhere Thursday!