BABIES
Cover Story: Angie & Brad Expectin' a Texan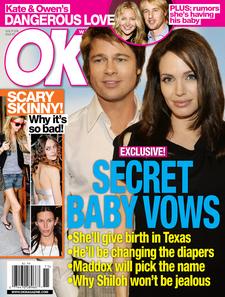 Smithville, Tex., is a small, rural town about 29 miles southeast of Austin. And in case you haven't heard, it's also the latest "home" for and and their growing family. The famous couple and their four children have recently set up shop there while Brad, 44, shoots his latest film, Tree of Life.
Production on the drama is expected to last for at least the next three months. And with sources telling OK! that Angie is around five to six months into her second pregnancy, it looks like the couple's new baby could be the first Jolie-Pitt to be born on American soil.
Article continues below advertisement
Sources tell OK! that Brad and Angelina took great care in choosing the right home for their family. The family reportedly moved into a sprawling 270-acre ranch just outside of Smithville, where they don't have to worry about being hounded by paparazzi or curious lookie-loos. "Several beautiful properties were offered to Brad and Angelina before they came to Texas," a source close to the proceedings informs OK!. "But they turned them all down. They were concerned about people being able to see their home — or even their driveway — from the road."
On Feb. 27, residents spotted "two huge semis, loaded with every toy and child-sized car and truck you could imagine" pulling up to the ranch. With no risk of being interrupted by the media, it seems the family is planning to live happily in Smithville for a quite a while, just as they did in Namibia prior to Shiloh's 2006 birth there.
A Jolie-Pitt insider tells OK!, "Brad and Angelina love the South.They weren't expecting to move to Texas for filming, but Angie is all for trying something new. If she could take on Iraq, a little town in Texas should be a piece of cake!"
For the full story on the Jolie-Pitt's new life in Texas, pick up the new issue of OK! — on sale everywhere Thursday!