BABIES
Cover Story: Oh, How They've Grown!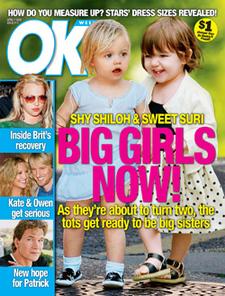 It seems like just yesterday the world was awaiting the births of two of Hollywood's most anticipated babies: Shiloh Jolie-Pitt and Suri Cruise. Today, as these two precious tots get ready to celebrate their second birthday, it's safe to say that both Shiloh and Suri have accomplished more than the average adult, traveling the world and hobknobbing with some of Hollywood's elite.
From private planes to European vacations, houses all over the globe to whirlwind goodwill trips, Suri and Shiloh are experiencing more of the world than most people ever dream of. Of course, all thanks goes to mom and dad, who make it all possible! Suri's parents, Tom Cruise and Katie Holmes, have taken their little girl everywhere since her birth, including their 2006 honeymoon in the Maldives Islands and a summer vacation in Saint Jean Cap Ferrat, France. Last fall, Suri jet-setted to Germany, where she and Katie lived while dad Tom was shooting a film in Berlin.
Article continues below advertisement
When she's not travelling with mom and pop, little Suri relaxes in her brand new Beverly Hills mansion, which just completed renovations. And don't forget about all the designer clothes! Mama Katie is making sure Suri gets a taste of high fashion early on, dressing her in Christian Louboutin baby shoes and Armani dresses.
Life's not so shabby for Shiloh, either. Her parents, Angelina Jolie and Brad Pitt, are two of Hollywood's most desired stars, and yet they're working hard to make sure their little girl grows up to be a woman of the world. With a home base away from the shining light of Tinseltown, Shiloh spends her days with her three siblings, Maddox, Pax and Zahara, in New Orleans, helping dad build homes for Hurricane Katrina victims in the lower ninth ward.
But don't think life is all work for this golden-haired toddler. Last March, Shiloh visited her dad on the New Orleans set of his movie The Curious Case of Benjamin Button and enjoyed carriage rides through the Big Easy with Grandma Pitt, and recently got to pick out armfuls of toys with mom during a trip to NYC's famed FAO Schwarz toy store.
And don't forget, Shiloh started out as a world traveler, being born in Namibia, Africa! With Angelina's expecting again, Shiloh will have yet another sibling(s) to add to the globetrottng crew of Jolie-Pitts.
For the full scoop on what these two tots have been up to, check out and , pick up the latest issue of OK! — on stands everywhere on Thursday!