BABIES
CSI: NY Celebrates Lucky #100!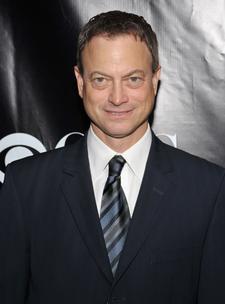 CSI: New York rolled out a blue carpet for its 100th episode party on Nov. 1 at downtown L.A.'s hip Edison club.
Stars Melina Kanakaredes, Gary Sinise, Eddie Cahill, Carmine Giovinazzo and Anna Belknap celebrated the 3rd series of the hit CBS CSI franchise reaching the 100 milestone. The episode will air Nov. 19.
Melina, who wore a sparkly blue dress by Kaufman Franco to the bash, told OK! she's feeling a little separation anxiety because her youngest daughter, Karina, 5, just started kindergarten.
Article continues below advertisement
"She had a blast and it was very easy for her but for me, it was hard," laughed Melina, who also has an eight-year-old daughter, Zoe, with husband Peter Constantinides . "She said, 'go, Mama!' I said 'Okay.' You want them to need you, but you don't want them to need you. It's that Catch-22."
The actress, who plays Stella, says her favorite episode was when her character "shot her boyfriend. It was tense and memorable. I'll never forget the fear and the intensity of the whole experience and I don't think she's quite gotten over that yet, either…she hasn't had a real relationship since."
Meanwhile, the show has another exciting twist this season—the first CSI baby! Anna Belknap's character Lindsay and Carmine Giovinazzo's character Danny are expecting this season, a first for the CSI franchise.
And, in real life, Anna is six months pregnant with her second child with husband Eric Siegel, so her show baby bump is very real. Sinise told OK! "She doesn't have to hide it. I'm glad they're writing it into the show."
Anna, who wore maternity jeans to the party, told OK! it's made things interesting on the set: "I forget when we cut that I'm still pregnant when I walk away! It's very weird in my head because you're thinking in pretend when you're acting." Her big pregnancy craving? "In and Out burgers."
By Carole Glines