BABIES
Denise Lashes Out at Charlie!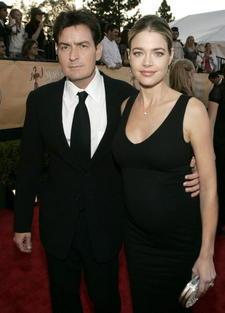 Forget Britney Spears and Kevin Federline — their divorce and custody battle is child's play compared to the ongoing war between Charlie Sheen and Denise Richards. And with the actress' appearance on Wednesday's Today Show, it looks like it's only going to get uglier.
The main topic of discussion during Denise's live interview with Matt Lauer was an e-mail obtained by NBC News that was supposedly written by the Wild Things star to Charlie's fiancee Brooke Mueller requesting a sperm donation from her ex-husband so that she might have children on her own.
Article continues below advertisement
"That e-mail is not legitimate," Denise told Matt. "It's a doctored e-mail... I would never send an e-mail to his girlfriend."
The actress also claimed that, during the time the message is purported to have been written, she was still involved with Bon Jovi guitarist Richie Sambora. "If I wanted anyone's sperm, I would have asked for Richie's," she explained.
Denise then said she had further evidence on her side. "What Charlie doesn't know is that on the date of that e-mail, I found out through my mother's doctor that she had two to six months to live," she said. "I wasn't looking to get pregnant, especially with my ex-husband."
In a statement released to Today, Charlie fires back: "Her claims that her e-mail has been fabricated or altered in any way to create this story are absurd. The mere fact that she continues to publicly discuss and harass both Brooke and me three years after our separation, which for the record is longer than the actual length of the marriage, is beyond desperate and speaks volumes."
Matt then brought up the topic of Denise's new reality show, which debuts Memorial Day on E! and which Charlie went to court in a failed attempt to prevent the couple's two daughter's from appearing on.
Article continues below advertisement
"When I originally approached Charlie he didn't have a problem, he signed the waiver that I needed," she claimed in the interview, adding that he later changed his mind, saying he wanted a change in their custody agreement before signing off on Sam and Lola's waivers. The actress told Matt that she took it all the way to a judge because, "I didn't want to change our custody for the show." Ultimately, the court decided in Denise's favor.
"Charlie is a stranger to me," Denise said of her relationship with Charlie. "He's my ex-husband and the father of my children and he's a stranger."