BABIES
Dennis Quaid & Wife Settle Lawsuit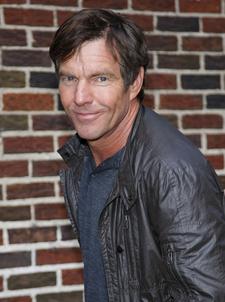 Last year, Dennis Quaid and his wife Kimberly Buffington watched their newborn twins suffer through 1,000 times the needed dose of blood thinner Heparin, and now part of that ordeal is over.
The couple have agreed to a $750,000 settlement with Cedars-Sinai Medical Center in L.A., which administered the wrong dosage in December 2007 after the Quaid twins, Thomas Boone and Zoe Grace, were brought in for a staph infection. The hospital does not admit wrongdoing in the settlement, however, according to the Associated Press.
Article continues below advertisement
After becoming extremely ill due to the overdose the babies recovered after two weeks; however there have been no long-term studies on the effects of Heparin overdoses in children.
The settlement is just on behalf of the parents' damages, other claims for the kids can still be pursued. The Quaids also tried suing the makers of the drug but that case was dismissed.