BABIES
Dennis Quaid, Wife Sue Medical Company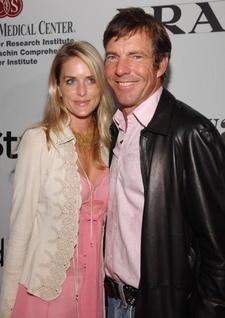 Dennis Quaid and his wife, Kimberly, have sued the drug company responsible for his twins' medical nightmare.
Baxter Healthcare Corp., the makers of the drug heparin, was served today for liability and negligence, the actor's attorney confirms.
The couple's newborn twins, Thomas Boone and Zoe Grace, born Nov. 8, were incorrectly administered 10,000-units-per-milliliter dosages of the anti-cogaluant at 10 days old in Cedar-Sinai Medical Center — 1,000 times more than the 10 units infants are supposed to receive. The 53-year-old claims the similarly packaged vials played a part in the mix-up.
Article continues below advertisement
While their children have recovered and "everything looks good," the two are suing to prevent future protocol errors, his attorney says.
The couple has yet to file against Cedar-Sinai.