BABIES
Despite Sobs, Brit Tells OK! She's "Fine" — But Is She Really?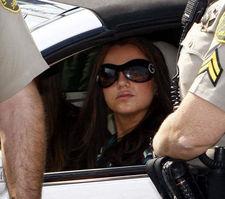 Amid a sea of media and onlookers, Britney Spears walked
into an L.A. courtroom at 1:40 p.m. PST on Friday to make her first appearance
in the ongoing child-custody battle with ex-husband Kevin Federline. Wearing
a very short blue dress, brown cowboy boots and Dior sunglasses and carrying
her white Versace bag, Britney kept her head down and, according to an
onlooker, "seemed really nervous."
Whatever fears she may have had were not unjustified. From
Article continues below advertisement
the outset, it was clear the former marrieds weren't prepared to put their
differences behind them anytime soon. "They barely looked at each other,"
an eyewitness tells OK!. "They did exchange a couple of glances but there were
not smiles. The rest of the time they were just looking straight ahead."
The "Toxic" singer, who one witness tells OK! "looks like
she's got really bad acne and greasy extensions," removed her sunglasses only
after sitting down at a table at the front of the courtroom. Britney, who had
been smoking rapidly as she pulled up to court, still "looked nervous" as she
waited for proceedings to begin. As her attorney kept leaning in and talking
into her ear, she continually sipped water and flipped through a date book.
Kevin, wearing a snappy grey suit and tie, said, "Thank you,
gentlemen" to his security team and entered the courtroom five minutes later.
Article continues below advertisement
The eyewitness tells OK!, "Kevin was looking confident, more in control."
Britney and Kevin, positioned with his attorney at a table
opposite his ex, both said, "I do" when they were sworn in by a court clerk.
"There was a lot of tension in the courtroom," adds the eyewitness. "There's a
lot at stake for both sides."
The press and members of the public were removed from the
courtroom a short while later, and during the hearing, court security blocked
off the entire floor and wouldn't let anyone through — including Brit's friend
and cousin Alli Sims and hanger-on Sam Lufti, who damaged two cars in the
courthouse parking lot while attempting to block paparazzi from taking photos.
"Alli looked very worried," one witness tells OK!. "She
was biting her nails and I heard her say to Sam, 'God, I hope she's
okay.'"
After about an hour, the hearing broke for a short recess,
Article continues below advertisement
during which Britney was escorted to the ladies' room by five sheriff's
deputies. At approximately 3:30 p.m. PST, Britney, protected once more by a
phalanx of courthouse guards, descended in the elevator for another break.
According to sources inside the courthouse, despite the fact
that Brit first told reporters that "everything's great," she was later
"bawling her eyes out" during one of her three breaks from the proceedings. She
even shouted obscenities — "Eat it, snort it, lick it, f**k it!" according to
witnesses — at reporters who asked how things were going.
Finally, after more than three hours, Brit made her way out
of the courthouse with her lawyer and cousin, Alli, by her side. "She's
fantastic," Brit's attorney Anne Kiley told OK! immediately after the hearing
ended. However, that statement goes against everything witnesses inside the
Article continues below advertisement
courthouse have been reporting.
"She appeared to be crying," one onlooker tells OK!. "The tip of her
nose was red and her cheeks were pink and puffy." Following the hearing, Brit
sped off through downtown L.A. in her car, but not before saying, "I'm fine... I'm
okay."
For his part, Kevin appeared "calm and collected" following
the end of the proceedings.
Superior Court Commissioner Scott Gordon did not issue any
ruling today regarding the fate of Sean Preston, 2, and Jayden James, 1, and is,
instead, taking all the evidence presented under advisement. He is expected to
issue his decision on Monday or Tuesday.