BABIES
Dr. Phil Speaks Out on Britney Rumors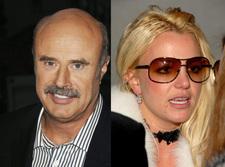 Could Dr. Phil have played a part in Britney Spears' early release () from the hospital? OK! has learned that the tough-love talk show shrink visited the pop star early this morning at Cedars-Sinai Medical Center in Los Angeles, which reportedly prompted Brit to begin screaming and demanding that she be released.
However, in a statement just released to Entertainment Tonight by Dr. Phil, he has a different version of this morning's events.
Article continues below advertisement
"My meeting with Britney and some family members this morning in her room at Cedars leaves me convinced more than ever that she is in dire need of both medical and psychological intervention," Dr. Phil explains in the statement. "She was released moments before my arrival and was packing when I entered the room. We visited for about an hour before I walked with her to her car. I am very concerned for her."
Dr. Phil's surprise visit may have something to do with an upcoming special episode of The Dr. Phil Show on the topic of Britney and her family. Rumors are flying that Britney may now make an appearance on the show, which is set to tape Monday and air Wednesday.
Stay tuned to OK! for more details.