BABIES
DRAFT: Jennifer Lopez Gives Birth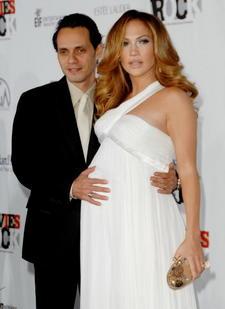 Jennifer Lopez is a mom -- two times over!
The actress-singer and her husband Marc Anthony, 39, doubled their pleasure today with the birth of their twins.
___________ and ____________ were born ___________ in ________.
They are Jennifer's first children and Marc's fourth and fifth. He has a daughter, Ariana, 13, with ex-girlfriend Debbie Rosado and two sons, Christian, 6 next week, and Ryan, 4, with ex-wife, Miss Universe Dayanara Torres.
Article continues below advertisement
The babies are a long time coming for the multi-hyphenate star, who had repeatedly expressed her maternal desires. But when the two learned they were expecting -- in October they were having twins -- they remained mum on the topic even as Jennifer's belly kept expanding on their joint El Cantante fall tour.
They finally confirmed the news during a Miami stop in November.
"Marc and I are expecting a baby!" a glowing J.Lo announced to the not-so-surprised audience.
The 38-year-old Bronx babe explained her hesitation to share her happy news in a Harper's Bazaar interview.
"I do realize people want to know because they're interested, but this is the first time I'm going through this," she says. "This is my experience and my husband's experience, and we get to hold that for a little while. We're just getting used to the fact that we've told everybody."
However, she was aware that it was the world's worst-kept secret. "I kind of feel like everybody knew anyway. I was on tour with a bubble gut!"