BABIES
Drea de Matteo Gives Birth to Baby Girl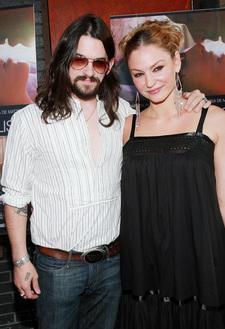 Sopranos alum Drea de Matteo has some new lullabies to sing.
E! Online has confirmed the 35-year-old actress gave birth to daughter Alabama Gypsy Rose on Wednesday night. Alabama clocked in at 8 lbs. 3 oz. This is the first child for Drea and her long-time boyfriend, musician Shooter Jennings, 28.
Little Alabama arrived a wee-bit early — Drea was due in December, but on a Tuesday posting on his official site, Shooter hinted that the birth was near.
Article continues below advertisement
"So I'm gonna take about a week off here, got a daughter comin' you know!" he wrote."Y'all pray for drea and hope for a good delivery of the little hellraiser. This girl sure ain't gonna take no SHIT from NOBODY!"
He promises an update next week to "give ya the good word!"
The Emmy winner had tried to keep her pregnancy on the down low but was forced to confirm it after she was outed by Veronique Maternity in May.