BABIES
Elisabeth Hasselbeck Reveals Baby's Name On-Air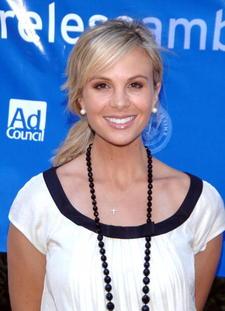 The ladies of The View received a special call-in guest Monday morning when co-host Elisabeth Hasselbeck, who gave birth to her second child, a boy, over the weekend in Arizona, rang up her gal-pals to reveal the name of her newborn son — Taylor Thomas Hasselbeck.
Elisabeth, who is currently on maternity leave in Arizona, where her hubby Tim Hasselbeck is a backup quarterback for the Arizona Cardinals, also revealed the baby's weight — 7 lbs. 15 oz.
Article continues below advertisement
When co-host Sherri Shepherd asked if Elisabeth was already back down to a size zero, the new mom joked, "I actually delivered him on a treadmill."
As for how young Taylor is getting along with Elisabeth and Tim's first child, daughter Grace, 2, the View host said, "She loves him!" and that Grace likes to say, "Oh, my little baby" to her little brother, while trying to feed him Goldfish crackers — a habit the 30-year-old says she's trying to break Grace of.
Elisabeth also dispelled rumors that she won't be returning to the hit chat show at the end of her maternity leave, when she confirmed to host Barbara Walters that she'd be back right after the show finishes its holiday break in early January.