BABIES
Elisabeth Hasselbeck Welcomes a Son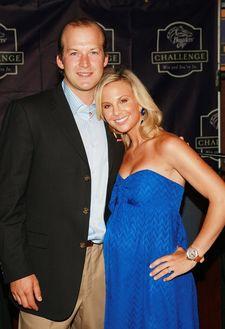 It's a boy for Elisabeth Hasselbeck!
The View co-host gave birth to her second child, a 7 lb. 15 oz. boy, on Friday morning at an Arizona hospital, ABC announces. Elisabeth plans to reveal the tyke's name on the chatfest Monday morning.
"Elisabeth and I are happy to announce the arrival of our son," her husband, Arizona Cardinals quarterback Tim Hasselbeck, 29, said in a statement. "Both mom and son are happy and healthy."
Article continues below advertisement
The two are already parents to Grace, 2.
Like with Grace, the Survivor alum opted for a delivery surprise, telling OK! in August, "I don't want to find out. It's different for every woman, but I prefer that moment of 'It's a boy!' or 'It's a girl!' I love that moment."
Elisabeth announced her pregnancy on The View in April to a celebratory shower of confetti, saying, "Like, I'm totally three months pregnant," and due in November — she later told OK! her due date was Nov. 11. Barbara Walters then prompted, "And what is November?"
"Sweeps!" the 30-year-old quipped.
Elisabeth started her maternity leave earlier than expected on Oct. 23 after Tim was signed to the Cardinals.
"I have to take early maternity leave so that I can get there
and actually introduce the doctor to my parts, before she pulls a child out of
me. But I'll be back, after the hiatus," she promised.