BABIES
Erykah Badu Debuts Baby Name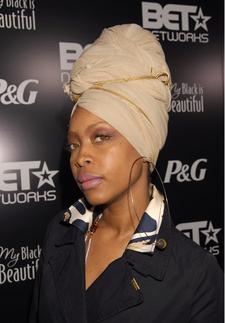 Erykah Badu is the perfect example of a no-nonsense mom in this age of instant information: not only did she blog about going into labor with her daughter this weekend, now she's apparently skipped publicists and press releases and revealed the name of her new baby via her Twitter page as well!
"Our daughter's name is MARS MERKABA," she writes, which follows a post from earlier today that read, "her eyes are looking right into mine . she struggles to focus . so much ? in her . i wonder where she just came from. i mean .. her spirit..."
Article continues below advertisement
However she'd also written "we named our baby twitty milk," so stay tuned for further potential name changes!
Erykah and boyfriend Jay Electronica welcomed their baby girl on Sunday after a home birth, with Erykah blogging that she didn't use painkillers over the five-hour labor. This is the third child for Erykah, who has a son and a daughter from two previous relationships.