BABIES
Even Matthew McConaughey Was Inexperienced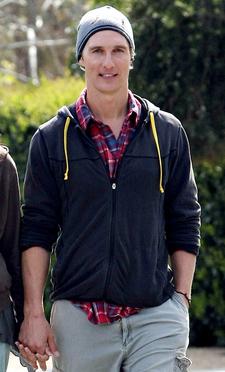 Matthew McConaughey might be the epitome of rugged masculinity, winning his leading ladies' hearts in romantic comedy after romantic comedy, but even this hunky Texan wasn't always the wisest guy in the bedroom.
"From checking out Playboy I always thought — jeezum, we still don't have a better word for it than vagina, do we? —I thought it was behind the pubic hair, and it faced horizontal. You know, east/west, not south," he admits to Elle. "So the first time I got to third base, man, I was hunting for a long time."
Article continues below advertisement
He apparently learned the ropes, as he is now the proud papa to Levi, his son with Brazilian model Camila Alves. Matthew is such a doting partner, he even DJ'ed the labor with Brazilian tunes!
"Camila was the one who wanted the music, but she was also really quick to say, 'Skip that f----n' song!,' " he reveals. "So here I was blazing through this playlist while she's nodding her head yay or nay, and I'm like, This next song better have that groove or I'm going to have to run across the bed and change it."
OK!'s EXCLUSIVE PICS OF CAMILA, LEVI AND MATTHEW: