BABIES
EXCLUSIVE PHOTOS: Take a Peek Inside Melissa Rycroft's Nursery!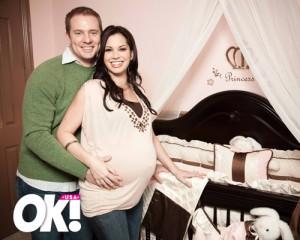 After her Bachelor heartbreak and emotional Dancing With The Stars run, Melissa Rycroft and husband Tye Strickland's lives are filled with joy as they get everything set for the arrival of their little princess! Melissa has been preparing for the big day with books and the help of a "what to do when you are expecting" iPhone app. Despite the planning, she got a taste of what the big day will be like last weekend.
Article continues below advertisement
OK! COVER STORY: REAL HOUSEWIVES OF BEVERLY HILLS — SISTERS TORN APART BY SECRETS
"We had our first 'is this or isn't it' moment, and I realized that Tye is not going to remain calm when the moment does come," Melissa, host of Bachelor Pad, tells OK!.
And though she's almost due, it isn't stopping the former Dallas Cowboys cheerleader from celebrating the Super Bowl at two parties.
"I haven't been able to travel or work for the past two months, so its exciting to me — and then I want to get this motherhood thing started!"