BABIES
Surprise! 'Rogue One' Actress Felicity Jones Secretly Gives Birth To Baby No. 1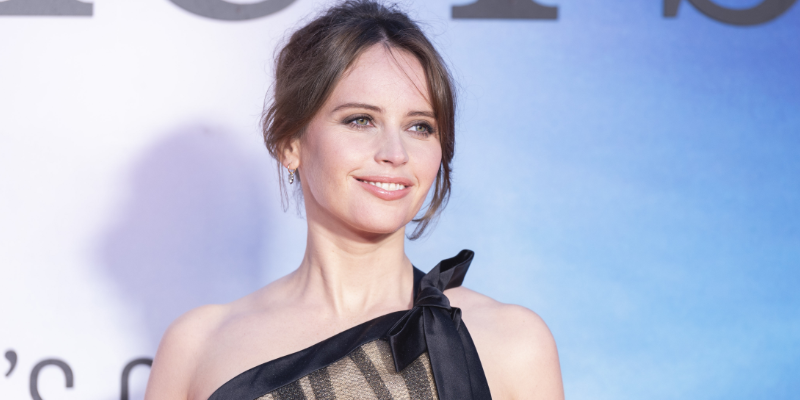 Congrats! Rogue One: A Star Wars Story actress Felicity Jones secretly gave birth to her first child with husband Charles Guard. According to photos obtained by the Daily Mail, the 36-year-old was spotted taking her newborn out and about for the first time in London on Friday, September 11. Jones wore a blue sweater with a patterned skirt along with sunglasses and white sneakers as she pushed the stroller around the neighborhood. The pair has yet to announce the gender and the name of the baby. 
Article continues below advertisement
'ROGUE ONE' ACTRESS FELICITY JONES MARRIES DIRECTOR CHARLES GUARD
In December 2019, PEOPLE confirmed the 36-year-old had a bun in the oven. Shortly after, the Hollywood star showed off her tiny baby bump at the premiere of her movie The Aeronauts — in which she starred alongside Eddie Redmayne — where she wore a fitted black velvet dress. 
Jones and Guard, 44 — who rarely speak about their relationship publicly — dated for two years before he proposed in May 2017. The two got married in July 2018 at Sudeley Castle in Cotswolds, Oxfordshire.
FELICITY JONES BRINGS DRAMA TO THE OSCARS IN A SHOW-STOPPING BALL GOWN!
Before the brunette beauty found her hubby — she dated sculptor Ed Fornieles for 10 years after they met at the Ruskin School of Art — she revealed she enjoys a good love story. "I am definitely romantic and I love romantic stories — that's why I keep making romantic movies," she told The Telegraph in 2014. "It's funny how seeing a love story never gets boring because it's the dream isn't it? It's the dream to have a true connection with another human being."
Article continues below advertisement
We can't wait until Jones debuts her new tot to the world!