BABIES
Gwen & Gavin Waiting to Know Their Baby's Sex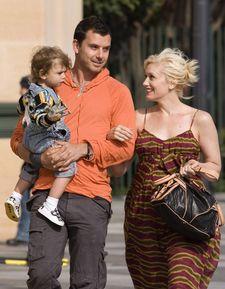 If you think Gwen Stefani and her hubby Gavin Rossdale are busy picking out pink or blue for their baby nursery, think again!
The rocker couple announced they are waiting to find out the sex of their baby, due later this year. On Wednesday morning, Gavin told Ryan Seacrest on his KIIS-FM radio show, "We don't know the baby's gender," he said. "It was a surprise last time so we're kind of working on that this time. There are some names floating around the house, bouncing around the walls."
Article continues below advertisement
Rossdale, 42, told Seacrest that he and Gwen have had a hard time coming up with names to top Kingston. "There's so much pressure on the poor guy or poor girl. Kingston set a pretty intense standard!"
The Rossdale's adorable tot, who turns 2 next month, keeps his parents busy with his growing vocabulary. "He speaks now," said Rossdale. "It's pretty cute. He's got a funny way of saying things and a funny voice. He's pretty vocal."
Gwen, 38, has described her son as a "chilled out little guy... he's super cute and super entertaining."