BABIES
Gwen Stefani Pregnant!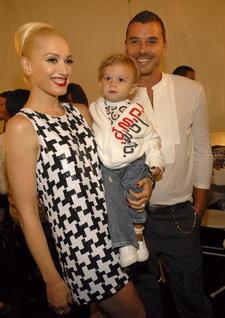 Gwen Stefani and Gavin Rossdale are expecting their second child together, her father-in-law has confirmed.
"They and the whole family are delighted," Douglas Rossdale confirmed on Tuesday, a day after London's The Sun announced she was pregnant again.
The rockin' couple, married since 2002, has a son, Kingston, 20 months.
Per The Sun, 38-year-old Gwen is 13 weeks along, putting her at the beginning of her second trimester.
Article continues below advertisement
The former No Doubt frontwoman has long expressed her desire to expand her clan and make her little boy a big brother.
"I pray that I can have another baby," she said not long after giving birth to Kingston. "I mean, it's such a miracle to have one. And there's so much I still want to do, because who knows? Things could be a lot harder a few years from now. I mean, I'm not at the beginning of my career. I'm on a ticking clock. And I don't want to miss anything."