BABIES
Halle & Gabriel's Family Ties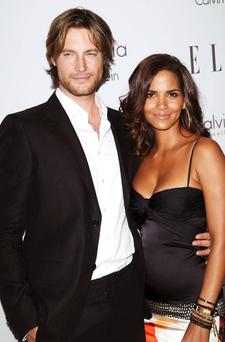 Looking as radiant as ever and back to her pre-baby weight, a stunning Halle Berry, 42, co-hosted the NAACP Image Awards with Tyler Perry on Feb. 12. But her thoughts were never far from home, where her model boyfriend Gabriel Aubry, 33, was playing Mr. Mom to their 11-month-old daughter, Nahla.
"Halle was thrilled about the evening, but she kept saying how eager she was to get home to her baby and Gabriel," a source tells OK!. Two nights later, the sexy couple spent some time together by having dinner at Japonais inside the Mirage Hotel before heading to see LOVE by Cirque de Soleil, the show inspired by the Beatles.
Article continues below advertisement
Up next--the glamorous beauty will star in Who is Doris Payne?, the story of real-life jewel thief Doris Payne,Variety reports.
The real Doris Payne is now 75-years-old, and enjoyed a 50-year career stealing diamond jewelry from stores such as Neiman Marcus and Town and Country. Her success was based purely on her good looks, incredible charm, and gorgeous clothes.
She made thousands pawning the jewlery and even expanded her trade overseas to Switzerland and Monte Carlo, living the high life in between while raising her two children.