BABIES
Halloween With The Stars!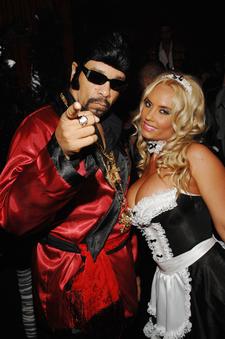 Now we've been rooting through our closets for weeks digging out our most freaky and fabulous Halloween costumes, we had to find out what the stars are going to be getting up to on Friday.
Lance Bass and his Dancing With The Star partner Lacey Schwimmer tell us they're going as their favorite High School Musical characters.
Lance is going to be Zac, Lacey is Vanessa and even Lance's assistant Lisa DelCampo is getting in on the act, as Ashley Tisdale.
Article continues below advertisement
"We liked it because it's a group costume and we can keep adding more people," said Lance.
Meanwhile, genuine Disney star Selena Gomez, says she's dressing as one of her idols.
"I'm going to dress up as June Carter Cash," she says, adding that she'll be going trick or treating with her BFF, Demi Lovato.
Pushing Daisies star Kristin Chenoweth tells OK! that she and her younger man, Charlie McDowell, are opting for a more obvious costume.
"My boyfriend is much younger than me, and we want to go as Demi Moore and Ashton Kutcher."
Then there's the stars who take the chance not to put a costume on, but take one off, like Ice T's glamour model wife Coco. "You think Coco likes to get naked... well Halloween. There's going to be a lot of skin, she's going to do her wild thing."
It sounds like Dina Lohan and her son Dakota didn't have much choice in their Halloween plans.
Article continues below advertisement
"My neighbors just said we're having a party at my house with all my twelve year old son's friends," she told us.
Some stars seem to have discovered that you don't have to dress up yourself to have fun on Halloween. Linsday Price is going give her dog a new look, while Fresh Prince star Tatayana Ali is going to dress up her grandmother instead!
"Linds is going to dress her King Charles cavalier puppy Ruby up as a Lady Bug," a friend of the Lipstick Jungle star tells us.
"We're going to watch Hitchcock movies and play cards, and maybe cook," Tatyana says of her plans with granny.
"I might make her dress up!," she laughs.
And it sounds like some new moms and dads are getting excited about Halloween all over again, now that they get to dress up their kids.
"We'll probably go to a party like we did last year," says Gossip Girl's Kelly Rutherford, who's son Hermes just turned two, "where all the kids are and they have treats and all that stuff."
Article continues below advertisement
His outfit? A "beautiful handmade lion costume," we're told.
"Last year my five year old was Little Red Riding Hood," says Fast Lane's Peter Facinelli," and I was the Big Bad Wolf."
But some busy celebs, like Ugly Betty's Becki Newton don't have time to pick up a costume, so they're finding less time-consuming ways to get into the Halloween spirit.
"I'm not really dressing up, but I like the fall in general, like pumpkins, and I just went to William Sonoma today and got some pumpkin smelling candles."
And then there's the ones who want nothing whatsoever to do with the whole thing, like newly married model, Beth Ostrosky Stern! "I hate Halloween. It scares me, ever since I was a child!"
Happy Halloween everybody!