BABIES
Happy Birthday, Jayden!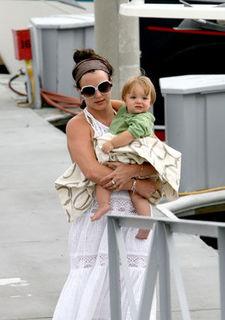 Happy birthday, Sutton Pierce, er, !
She may pop out other things these days, but 365 days ago, spawned another tyke for the world to see. The singer gave birth to the couple's second son via C-section and, for six weeks, the kid's name was erroneously reported to be Sutton Pierce.
Apparently not up for giving their sons matching initials even though they weighed the same at birth (6 lbs 11 oz.) and almost share the same birthday — Irish twin was born Sept. 14, 2005 — mom and dad opted for the double power of J.
Article continues below advertisement
While they announced Sean's moniker on Britney's Web site, the duo laid low with Jayden's, playing the name game for more than a month. The kid's real name was only unveiled when the birth certificate was officially filed.
Speaking of laying low, Jayden missed out on a cover story while Sean's an age-old pro at photo shoots by now.
Here's hoping there's no sibling rivalry.
Which name do you like better? Sutton Pierce or Jayden James?