BABIES
Howard K. Stern Wants Anna Nicole's Money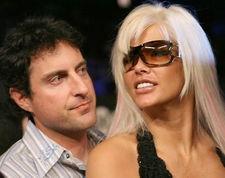 Several months after the death of Anna Nicole Smith, the drama surrounding the late Guess model still continues to swirl. In the latest development, Anna's one-time lawyer and common-law hubby Howard K. Stern has filed a claim against her estate asking for 6% of any money the estate might inherit from Anna's late husband, oil tycoon Howard Marshall.
According to documents obtained by CelebTV.com, Howard's claim involves a purported existing agreement between Anna and Stern regarding claims against the Marshall estate. "A contingent fee agreement on file with the Bankruptcy Court and incorporated by this reference pertaining to the Marshall litigation, payment of which is conditioned upon recovery in the Marshall litigation, and the amount will be six percent (6%) of the Estate's net recovery, if any," the papers read.
Article continues below advertisement
Stern also recently filed paperwork asking the court to name one-year-old Dannielynn as the sole beneficiary of the late beauty's estate.