BABIES
Idol's Got a Friend in Courteney Cox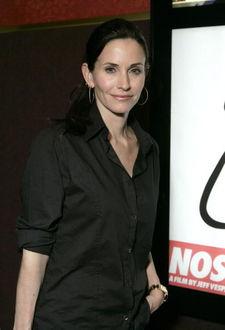 Usually when A-list celebs make an appearance on American Idol, it's either to tutor the finalists or to promote their new Fox-related show or movie, but that wasn't the situation with Friends star Courteney Cox, who piled into the Idol studio along with her daughter and several pals for Tuesday night's Andrew Lloyd Weber-mentored show.
According to sources in the audience, Jen Aniston's BFF arrived around 10 minutes before the start of the live broadcast, and brought along her assistant, 3-year-old daughter Coco, and a pair of female friends who also came with their children.
Article continues below advertisement
As Courteney and her crew settled into their third-row seats, a pal of the actress was overheard expressing the group's united admiration for Idol favorite David Cook. In fact, a source tells OK!, "Courteney attended the taping because one of her friends was visiting from New York City and is a huge Cook fan who was eager to see him perform in person."
In fact, that friend's young son not only held up a sign that read "David Cook for President," he also had the words "David Cook #1" scrawled across his face!
Despite the group's evident Cook devotion, a number of the other five finalists appeared to catch Courteney's eye. While hugging Coco (who seemed more interested in playing with her mother's hair ), the former Friends star nodded approvingly to her pals when Syesha Mercado raised temperatures with her rendition of the Starlight Express track "One Rock 'N Roll Too Many." And once the hopeful's performance was over, Courteney, 43, leapt to her feet to lead a standing ovation.
Article continues below advertisement
And as Brooke White, who had to get herself back in order after a false start on her song, belted out "You Must Love Me," from the Madonna-starring film version of the hit musical Evita, a friend of Courteney cooed, "I have the chills!" However, adorable Coco seemed a little less thrilled, as she sat in her mother's lap with one finger in her mouth – and the other in her left ear.
Of course, the highlight of the night for Courteney and her pals was Cook, whose version of the Phantom of the Opera classic "The Music of the Night" had the Dirt star and co. rocking in their seats until they burst into a standing ovation at the end.
Once the show was over and the group began to make their way to the exit, Coco leaned over to her mother and shyly announced that she wanted to "say something" to her young female playmate. That something was "sorry."
When Courteney inquired why her offspring was apologizing, it was revealed that they'd earlier had a very discreet spat while watching the show.