BABIES
If Heath Wins, the Oscar Goes to Matilda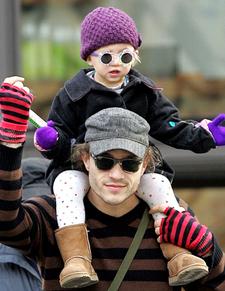 It seems like a no-brainer: as Heath Ledger's only child, Matilda Rose Ledger will take home her father's Oscar statuette if he wins this Sunday.
However, certainr rules regarding the ownership of the award make the situation a little tricky. Those who win Oscars are required to sign an ownership agreement, promising that they will keep the statuette. Otherwise, they may sell it back to the Academy for $1.
Article continues below advertisement
Being that Matilda is only 3, she legally can't sign such a contract until she's 18 – 15 years from now.
''From our point of view, somebody has to sign the winner's agreement, and a 3-year-old can't do that,'' Bruce Davis, executive director of the Academy, tells the Associated Press. ''Nor can a parent sign any kind of legal document that obligates a child to do something once they turn 18. I didn't know that before we looked into it, but it's a good law.''
After all is said and done, Michelle Williams will hold the statuette in trust for her daughter until Oct. 28, 2023, at which time Matilda can sign the agreement and keep it forever, or give it back to the Academy.
Now the only question remaining is who will accept for Heath if he wins, something that's being kept under tight wraps.