BABIES
It's a Boy for Amy Poehler & Will Arnett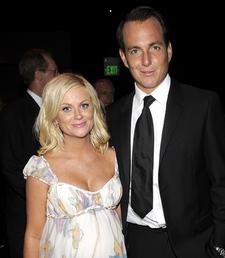 Brad Pitt and Angelina Jolie may be trying to populate their world with the prettiest children on the planet, but there's no way any of their six kids will be as funny as Archie Arnett, the newborn baby son of two of the funniest people in entertainment, Amy Poehler and Will Arnett.
Little Archie was born in New York on Saturday, Oct. 25, and weighed in at 8 lbs, 1 oz. According to a statement released by rep Lewis Kay, "Amy, Will and Archie are all healthy and resting comfortably."
Article continues below advertisement
The first news of Archie's birth was broken live on NBC on Saturday night, when Seth Meyers, Amy's co-anchor on SNL's "Weekend Update," explained that she wasn't there because she was "having a baby."
This is the first child for the couple, who married in 2005.