BABIES
Jade Goody Christened in UK Hospital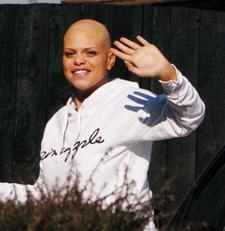 With perhaps only days or weeks left to live, terminally ill UK reality star Jade Goody joined her two young sons in being christened.
The ceremony took place in the chapel of London's Royal Marsden Hospital, where 27-year-old Jade is currently under medical supervision.
According to reports out of the UK, Jade sat in a wheelchair with 4-year-old son Freddie on her lap during the service. The hospital's chaplain Rev. Chris Lee presided over the ceremony, alongside Jade's hometown vicar, Corinne Brixton.
Article continues below advertisement
Among the almost 30 people in attendance were Jade's new husband, Jack Tweed, as well as former boyfriend and father to Freddie and 5-year-old Bobby, Jeff Brazier.
Jade's rep Max Clifford explained the decision to have the christening. "This is Jade's way of keeping in touch with the boys. Her words were, 'They have got Jesus around them now.'"
Jack reportedly told friends, "It was a very special occasion, especially for the boys... It was important to take this opportunity to have this christening today. The boys were so good. They are such a credit to their mum."