BABIES
Jamie Lynn & Casey: Making It Work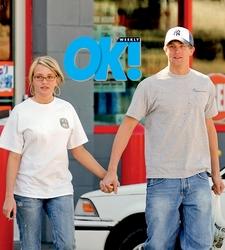 If Jamie Lynn Spears has learned anything from her older sister Britney, it's not to live her life in the spotlight. The 16-year old star of Nickolodeon's Zoey 101 is contemplating a new life behind the camera, now that she's expecting her first baby with boyfriend Casey Aldridge. "She's thinking she should get more behind the scenes," says a family friend. "She wants to try writing."
While mom Lynn cares for Britney in L.A., Jamie Lynn is finding a new sense of strength from her pregnancy and from Casey, 18. The two have been spotted all over her hometown of Kentwood, La. where witnesses say the pair are like any other couple in love.
Article continues below advertisement
"They're adorable," says a Kentwood friend of the sweethearts who spotted them at an Autozone on Feb. 10. "They were so affectionate, constantly kissing one another. Casey is very much a gentleman — he even opens her car door. He is so attentive to her every need."
So is there a marriage in the works? Friends say definitely not now. Jamie Lynn is focusing on her pregnancy and preparing herself for motherhood. While studying for her G.E.D., she has also been taking care of the house while mom Lynn is in L.A.
For the full story on Jamie Lynn and Casey's romance, pick up the latest copy of OK! — on stands Thursday.