BABIES
Jason Bateman Hopeful for Arrested Development Film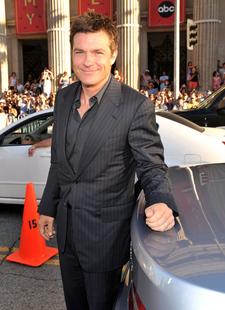 Now that the Sex and the City film has opened, focus is turning to yet another beloved and defunct television show that could possibly hit the big screen -- Arrested Development.
"I think it might happen," AD's once-time leading man Jason Bateman tells Parade.com. "I've got my fingers crossed."
The dysfunctional Bluths became a cult favorite during their three short seasons on the air, and ever since its February 2006 finale, there has been talk of a movie version by the creators and stars. So what's the hold-up?
Article continues below advertisement
"It's a question of timing," Jason, 39, says. "When is it too early? When is it too late? I hope it happens because we all miss each other."
For the time being, the Golden Globe winner can be seen in opposite Will Smith in Hancock as the straight man to Will's alcoholic, high-flying superhero. While Will got to soar to new heights, Jason's feet remained planted on Earth -- not that he minded at all.
"It's not great being thrown around by wires and wearing tight little leather harnesses," he says. "But I couldn't believe Will. He digs it. This guy likes to fly. I'm good just staying on the ground and watching."
Plus, Jason's got to be watchful of any stunt activity with a 20-month-old daughter, Francesca, with wife Amanda Anka, at home.
"I'm that guy now that will show you a picture on my phone if you ask me to and tell you some stupid little thing she did last night," the proud dad says. "It's really neat. She's no longer an infant. I can make her laugh. And she's pointing. She's clapping. She's waving. It's pretty great."