BABIES
Jen on Ben's Hungry Habits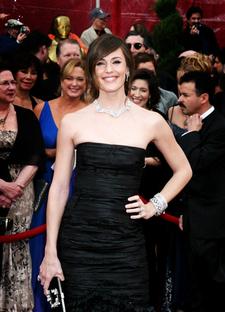 If we didn't know better, we'd think Jennifer Garner was your average working mom with a hungry husband. The star of upcoming romantic comedy Ghosts of Girl Girlfriends Past might have a hugely succesful movie career and Ben Affleck as a husband, but she and her family keep it real.
"I never go nuts with my look," says the face of Neutrogena. "It's easy to feel like you've gone into caricature territory when you do."
Article continues below advertisement
"These days I wear less makeup than earlier in my career, but I know a lot more about it now," she adds of her flawless face.
The down-to-earth mom of two, to daughters Violet and Seraphina, also learned some of her mothering ways from her own mom, who helped hone her skills in the kitchen.
"She taught me to proof my yeast with a little bit of sugar," says Jen of her mom, also named Violet. "And she also taught me how to stretch a roasted chicken to make three meals. Though Ben could eat an entire chicken in one sitting."
Although his skills at the table might be impressive, Jen thinks it's funny how Violet's hair can look a little bit mussed in pictures sometimes.
"Ben will do the school run. He dresses her and does her hair. It's pretty funny," she jokes. "You can always tell when he has been at it, just two random barrettes hanging in there. It's so sweet."
JEN AND VIOLET:
<a href="http://www.okmagazine.com/pixandvids/gallery/13184/1" target="_blank"><img src="https://d-images.okmagazine.com/img/photos/large/25374.gif" width="74" height="100"/></a> <a href="http://www.okmagazine.com/pixandvids/gallery/13184/2" target="_blank"><img src="https://d-images.okmagazine.com/img/photos/large/25373.gif" width="74" height="100"/></a> <a href="http://www.okmagazine.com/pixandvids/gallery/13184/3" target="_blank"><img src="https://d-images.okmagazine.com/img/photos/large/25372.gif" width="74" height="100"/></a> <a href="http://www.okmagazine.com/pixandvids/gallery/13184/4" target="_blank"><img src="https://d-images.okmagazine.com/img/photos/large/25371.gif" width="74" height="100"/></a> <a href="http://www.okmagazine.com/pixandvids/gallery/13184/5" target="_blank"><img src="https://d-images.okmagazine.com/img/photos/large/25370.gif" width="74" height="100"/></a>