BABIES
Jen Garner & Matthew McConaughey Talk Babies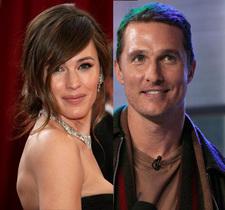 Soon-to-be first-time dad Matthew McConaughey has a new nickname for Jennifer Garner: Supermom! The two, who are currently shooting the film Ghosts of Girlfriends Past in Boston, have taken to talking 'parenthood' during their breaks in filming.
Sources say Matthew, 38, who is expecting his first child this fall with girlfriend Camila Alves, 25, is quizzing Violet's mom on everything from changing diapers to getting enough sleep.
Article continues below advertisement
"He says he just wants to be prepared and is excited about being a dad for the first time," a set insider tells OK!. And, according to witnesses on set, Jen's advice is getting rave reviews. "Matt calls her 'Supermom' and 'Mary Poppins,'" a source says. "He'll ask for something, and she'll look in her bag and magically have it. One day he asked for duct tape! She said she didn't have it but does like to be prepared for anything."