BABIES
Jenna Jameson's Baby Bloggin'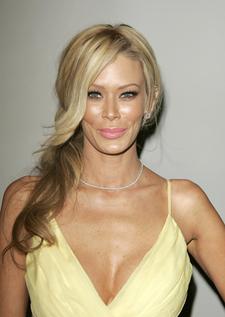 Jenna Jameson is a proud new mom to twin boys Jesse Jameson and Journey Jette, her first kids with main man Tito Ortiz, and she wants to tell her fans all about the experience!
The former adult actress took to her blog today on Celebrity MySpace to write about her lil' guys, saying, "Yes, I am the lucky mommy of two gorgeous boys... Jesse Jameson and Journey Jette. I spent 2 months in Hoag hospital on bed rest, in order to try to take my twins to term. Well, I came pretty close! 33 weeks was my magic date and I delivered my boys on March 15th."
Article continues below advertisement
She goes on to detail the labor, writing: "I was blessed with a very easy labor, it lasted about 2 hours. When it came to pushing them out, I truly believe the 500 sit ups a day paid off. I was able to push my 5 pound Jesse out in 5 pushes. Journey who was 4 lb. 11 oz. was out in 3 pushes."
After all that work, will Jenna have more kids in the future? Seems like it!
"I loved the whole process of being pregnant and I hope to have another baby someday.... but in the meantime, I'm having a blast with my two little monsters!" she writes. "By the way, Jesse looks like me and Journey looks like Tito! I feel like the luckiest girl ever!!!!!!"