BABIES
Jennifer Connelly Tries Not to Bring the Office Home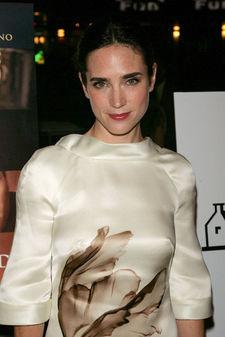 In Reservation Road, Jennifer Connelly's character faces every parent's worst nightmare — losing their child. Being a mom, the heavy role was difficult for the Oscar winner to tackle, she said at the film's New York premiere on Thursday.
"Consciously, I really strive not to bring my work home with me. I really try to be very vigilant and not think about my children in the sort of context that you see," Jennifer said.
Article continues below advertisement
The 36-year-old has two children, Kai, 10, with ex David Dugan, and Stellan, 4, with husband Paul Bettany. She adds that it's "inevitable" for any parent to feel uncomfortable with such a dismal subject. "It's about being a mom and my children and looking over my shoulder, and it's so important to me as a person and so many things happened that I've never experienced."
How deeply did the part disrupt her life?
MORE ON:
Jennifer Connelly
"I'm a champion sleeper and I had a hard time sleeping, my jaw was locking up and I was having nightmares," Jennifer said. "So it really affected me even though I tried my hardest not to let it."
By Brandi Tape