BABIES
Jerry O'Connell: Strict Father-To-Be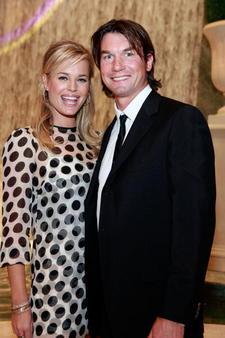 A lot of dads tend to be overly cautious when it comes to protecting their daughters from male suitors, but actor Jerry O'Connell, who is currently expecting twin girls with wife Rebecca Romijn, has taken it up a notch in the overprotectiveness department.
"I was a little strict when I first found out I was having girls," he explained to OK! at the Nike + Human Race in L.A. on Sunday. "I was like, 'They're not allowed to date until I die.' That was my original thought. They can date boys when I'm dead."
Article continues below advertisement
But after Rebecca brought him back down to reality, the Do Not Disturb star has eased up — slightly. "I said, 'Okay, they can date when I'm alive, but it has to be with men who are currently — or heir to — running a country.' Someone who is a world leader. They are allowed to date boys but it has to be a boy who is heir to a throne of a nation. I don't care which nation – just a nation."
Meanwhile, Jerry tells OK! that Rebecca's pregnancy has actually aided him in getting through the stresses of working on a new sitcom. "What's funny is I'll stress out and then I'll come home and my wife will be like 'Feel the babies,' and then I'll feel them and I'm like 'Wow, what am I stressed out for?' Just have a healthy kid."
And while Jerry's been hard at work on Do Not Disturb, Rebecca's been having some odd cravings in the kitchen. "Soy cream cheese," he revealed. "We are by no means vegetarians. We eat dairy. We eat meat. We eat it all. But for some reason soy cream cheese is the call, which is interesting because I have to ask someone at the supermarket where it's kept because it's usually kept in a strange area. It's in a hummus section that I'm not quite familiar with."
Article continues below advertisement
The father-to-be has also learned not to mess with his wife's very specific cravings. "She asked for soy cream cheese and I brought back regular cream cheese and I was like 'Cream cheese is cream cheese' and she's like, 'No it isn't. You've got to get the soy stuff.'"
With fraternal twin girls on the way, Jerry is learning all about preparing for two new family members. "I'm looking for two for one sales everywhere," he said. "But it's so cute man. I can't wait. Getting like little girly clothes and everything. It's just fun."
So what about names for his little girls? "The advice I've heard from people who have twins is don't call them 'the twins' and don't name them rhyming names," Jerry told OK!, adding that he had considered naming them after Mary-Kate and Ashley Olsen. "That's what I wanted because they're earners. Those girls make money. If my girls made that kind of money I'd be really proud of them."
Jerry did reveal that one of the girls might end up as a tribute to another famous star. "We're probably, most definitely, going to name one of them Dolly because my wife is such a Dolly Parton fan and believe it or not Dolly Parton's name is Dolly Rebecca. So I was joking that if one of them was Dolly, we should name the other one Lama. That would be funny. Or what about Dolly and Cher? It's like – destined for stardom."