BABIES
Jessica Simpon Indulges In Love!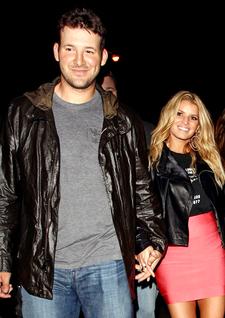 Love-birds Jessica Simpon and Tony Romo couldn't spend Valentines Day together, so they planned an extra special night out in New York on Feb 13th.
But even the most perfect Valentine plans can suffer a hiccup.
Although the pair cruised around town in a stretch limo, Tony didn't seem to share Jessica's enthusiasm for a fancy romantic night, dressing in sneakers, jeans and a T-shirt that contrasted with her cocktail attire.
Article continues below advertisement
"She obviously wanted a big, special, dressed-up night out — and he looked like he was going bowling," says the source.
And when Jessica sat down for dinner with the Dallas Cowboys quarterback, whom she's been dating for 18 months, Tony, like a typical guy, was hooked on his favorite gadget: his iPhone!
"Jessica couldn't seem to get Tony's full attention," an onlooker tells OK!.
Despite their clothing clash, Tony and Jessica, both 28, behaved like a couple of lovebirds during their dinner at West Village hot spot Waverly Inn on Feb. 13, where fellow diners included 24 star Kiefer Sutherland and Mickey Rourke.
"Jessica and Tony chatted and laughed over salads and red wine," said an onlooker. Then Tony pulled out his iPhone and switched his gaze from his girlfriend to his gizmo.
"At first, he and Jess giggled together when he showed her the screen," a fellow guest tells OK!.
"She quickly lost interest, but he kept fiddling with the handset and laughing."
After about 15 minutes, says the source, Jess was left to gaze around the room while Tony texted. But rather than get angry, the singer amped up her affection.
Article continues below advertisement
"She started staring expectantly into his eyes, but his were fixed on the screen," adds the insider.
"Then she started rubbing his shoulder and playfully acted like she was going to take the phone from him."
Jessica's plan worked. After more chuckling, the two resumed conversation over chicken pot pie. They then shared a chocolate sundae at dessert emporium Serendipity 3.
"The sundae was the size of her head," an onlooker tells OK!.
Jessica, who has been at the center of a debate about her weight in recent weeks, found an unlikely ally in the form of Tony's ex Carrie Underwood, who defended Jessica over the weekend.
Carrie told OK!, "Everybody looks so much bigger onstage and on TV, so I think it's unfair."
After their dessert Tony surprised Jessica with a bouquet of red roses.
Having enjoyed such a romantic gesture, it was no wonder that at her Rochester, N.Y., concert on Valentine's night, an elated Jess told the crowd, "I'm celebrating the life I'm
living right now."
The pair even sparked some baby rumors on their lovey-dovey night out.
During their Valentine's Day dessert splurge at Serendipity 3, Jess turned from handsome her handsome boyfriend to a cute baby girl who was sitting nearby.
"Jessica picked up the adorable little girl, bounced her on her knee and cooed over her," an onlooker tells OK!.
By Oliver Coleman