BABIES
Jodie Sweetin Has a 'Full House'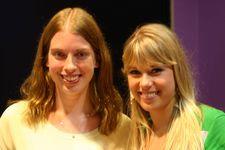 Jodie Sweetin, 26, is adjusting to life as a mom now that she and hubby Cody Herpin, 30, welcomed their daughter Zoie on Saturday.
I caught up with the former Full House star when she hosted Pants-Off Dance-Off. She had a meet-and-greet with OK! at the Fuse studios, and a dozen staffers trekked out to meet her. We remember the day fondly. In fact, OK!'s Lindsey Hunter proudly shows off the photo on her desk.
Article continues below advertisement
What's the most common reaction Jodie gets when she bumps into fans?
"The most common reaction I get is, 'Oh my gosh, you haven't changed!' or 'Oh my gosh, you have changed!' " she tells me. "Or, 'Oh my gosh, you look so much older, but you haven't changed.' I'm like, 'I don't know if that really makes sense.' People still watch Full House all the time. It's on three times a day!"
What's her favorite Full House memory?
"One of the favorite things I got to do for Full House is go to Disney World for two weeks when we shot there. It was like a big family vacation with 70 people. The whole cast, the crew, I was doing school in the lounge area of my hotel in Walt Disney World and going backstage and getting to do stuff. It was really fun. Whenever we traveled, we had a good time."
Best wishes for Jodie, Cody and baby Zoie.