BABIES
Jodie Sweetin "Ready" and "Excited" to Be a Mom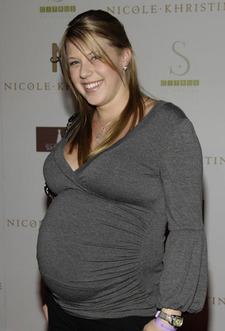 Jodie Sweetin is weeks away from creating her own Full House!
The former child star expects her first child, a daughter, with husband Cody Herpin on April 6, and the mom-to-be could not be happier.
"Five more weeks to go — the countdown is on!" Jodie tells OK! at the Readalicious Wonderland event in Century City, Calif. "I think I'm ready. It's weird. I don't think you're ever fully prepared to be a parent, but I'm excited for sure."
Article continues below advertisement
In preparation for her new bundle of joy, the 26-year-old turned to her friends and family for advice on motherhood and supplemented those words of wisdom with lots of reading. "I'm a huge reader," she says. "I'm a big book nerd. I go through like two books a week."
Aside from learning the essentials on parenthood, Jodie took another step toward expanding her family — she and Cody recently moved to a larger home outside of Los Angeles.
"It's nice," she says. "We're a little less hectic, a little more out of the way of things. There is no picket fence, but it's not Hollywood either."
Like many expecting mothers, the actress has had her share of food cravings, but says she is far more normal than some of the women she's heard stories about.
"Frozen chicken pot pies are like the one thing throughout the pregnancy I've really wanted but that's about it," she says. "Nothing weird. No pickles and ice cream. I've heard of women craving to eat dirt, but none of that. I'm pretty normal."
When her pregnancy is over, Jodie looks forward to getting back to work, but knows she has to work herself into TV-ready shape first.
"After the baby is born, I definitely want to start getting back into things," she says. "I want to start working again, but I want to get back into shape first, because it's kind of hard to work when you're round."
By Jon Warech